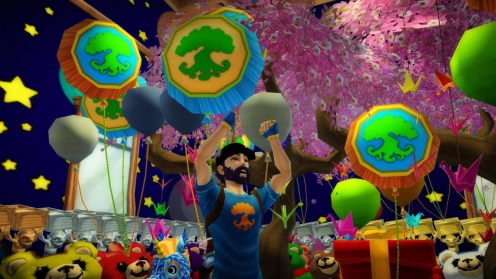 from www.gamesradar.com
Daybreak Announces Sunrise of Free Realms and Vanguard: Saga of Heroes
Russell Shanks, CEO of Daybreak Games, announced two titles will be returning to their line-up, which includes the popular EverQuest franchise, as well as DC Universe Online and PlanetSide:2. "We're pleased to announce that Free Realms, and Vanguard: Saga of Heroes will be returning fall of 2016. These games were well-loved by their fans and fill a gap missing in our line up and one that is a little thin in the gaming world overall."
Free Realms and Vanguard were "sunset" two years ago. At the time, Sony Onine Entertainment, as Daybreak was previously known, said, "At Sony Online Entertainment, we are always evaluating our portfolio to ensure we're providing players with the best gameplay experiences. At times, as part of this commitment, we have to make the difficult decision to sunset a game so we can refocus our resources on other areas in the best interest of our company and player community."
When asked to comment, Larry LaPierre, the senior vice president of games said, "We regretted that decision after a dismal year in 2015. We were wrong when we thought that Free Realms players would flock to H1Z1. We thought that the kids who were so mean to each other in that game would prefer to be killing each other as well as zombies. We were also wrong when we thought our Vanguard fans would enjoy building new worlds in Landmark."
Indeed, recently Daybreak announced the cancellation of EverQuest: Next. We asked, why the delay in bringing these games back as surely the developers have time now, and fans are surely wanting to see these games return as soon as possible. "It's not as easy as dusting off a CD and turning on a switch. We'll be bringing these games up to the current technology, which includes adding a 64-bit versions of the game clients as well as ensuring they will run with the latest video drivers."
Unfortunately, WizardryOnline and Clone Wars Adventures, the other two titles also shut down on March 31, 2014, will not be returning.
It is unknown at this time if all character accounts will also be returned. Free Realms, though launched in 2010, is still a visually stunning game. But will it hold the interest of players who have gone on to play games like Archage, Blade and Soul, and Guild Wars 2? LaPierre responds, "I know that's what the players will be most interested in - in getting back into their old outfits, and their housing creations, but I can't promise anything at this time. I can say, that this is not just a cash-grab move. We are bringing back the games in full, and are planning on regular updates to content."
This page last modified 2017-04-24 00:13:04.